Little Leaves Behavioral Services Appoints Dr. Ivy Chong, Chief Clinical Officer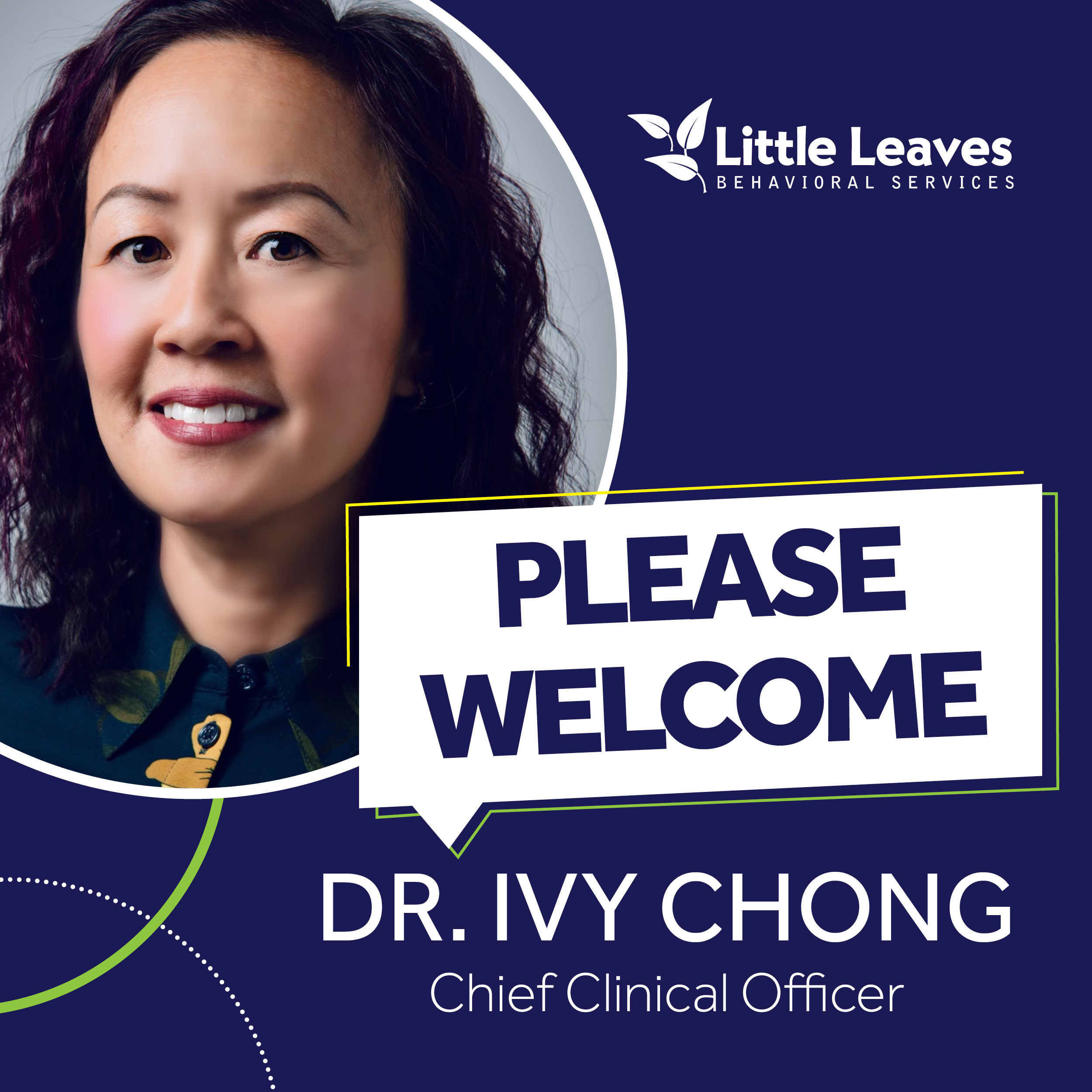 Addition of industry thought leader and autism spectrum disorder expert fortifies the clinical and operational leadership teams at evidence-based ABA therapy centers
SILVER SPRING, Md., May 16, 2023 (GLOBE NEWSWIRE) — Little Leaves Behavioral Services, a leading provider of center-based behavioral health services and early intervention for preschool-aged children on the autism spectrum, today announced the appointment of Dr. Ivy Chong as chief clinical officer. In this newly created role, Dr. Chong, a licensed psychologist and board-certified behavior analyst-doctoral (BCBA-D) specializing in the assessment and treatment of individuals with autism spectrum disorder (ASD) and developmental disabilities, will lead the clinical and operational teams, help drive the quality and breadth of programs offered to clients, and support system growth as part of Little Leaves' planned expansion along the east coast.
"Over 13 years ago, Little Leaves was founded with a mission to deliver exceptional ABA services to the youngest of children with autism spectrum disorder, helping them achieve their full potential," said Marina Major, president, Little Leaves Behavioral Services. "We've grown from working with a handful of children to proudly serving more than 250 clients across 14 centers, so it is a perfect time to add Dr. Ivy Chong join our team. Her decades of experience and strong commitment to support children with autism will help enhance our efforts to expand ABA therapy access in communities with the most need and ensure that more families can benefit from these critical services."
Dr. Chong joins Little Leaves with almost 30 years' experience working with individuals with autism and developmental disabilities. She previously served as senior vice president of children's services at May Institute, overseeing the operations of home, school, and center-based services. Previously, Dr. Chong worked as the director of autism services and training at the Scott Center for Autism Treatment. She also held the position of associate professor at the Florida Institute of Technology's College of Psychology and Liberal Arts.
"I am honored to join Little Leaves, an organization with highly trained, like-minded professionals who are passionate about providing the highest-quality ABA services to the families we serve," said Dr. Chong. "As autism rates continue to rise, I am eager to bring my expertise to Little Leaves and work collaboratively to support young children facing social, communication, and behavioral challenges, paving the way for brighter futures."
Dr. Chong maintains leadership roles on several advisory boards, holds adjunct appointments at Brock University and UMass Lowell, and has presented at numerous conferences nationally and internationally. She has also served as a guest reviewer for Journal of Applied Behavior Analysis, Behavior Interventions, Journal of Autism and Developmental Disorders, Journal of Organizational Behavior Management, and Behavior Analysis in Practice.
She received a doctorate from Western Michigan University in behavior analysis and received a post-doctoral MBA in healthcare management from Florida Institute of Technology.
Little Leaves operates 14 centers on the East Coast across Maryland, Virginia, and Florida. Specifically designed for children ages 18 months to 6 years with an ASD diagnosis, the programs are run in a preschool-like setting to help improve school-readiness skills and build independence. Little Leaves' clinical staff partners with the child's family to develop and implement individualized therapeutic plans.
Little Leaves Behavioral Services is accredited by the Behavioral Health Centers of Excellence®. ABA is endorsed by the American Academy of Pediatrics, National Academies of Science, and the Surgeon General.
About Little Leaves Behavioral Services
Little Leaves, a division of FullBloom, is a full-time, center-based Applied Behavior Analysis (ABA) program for young children with autism spectrum disorder, run in a preschool-like setting. It is designed for children ages 1-6 who have been recommended for intensive ABA services. Each client works one-on-one with a trained behavior technician, addressing individualized goals with a focus on social communication, social interactions, and school readiness skills. The company operates centers in Maryland, Virginia, and Florida. Little Leaves is accredited by the Behavioral Health Center of Excellence.
Press Contact
Jennifer Leckstrom
RoseComm for Little Leaves
(215) 681-0770
[email protected]