Little Leaves was recently awarded the highest level of accreditation by the BHCOE for leader in high-quality, center-based early intervention resources for young children with autism.

– Behavioral Health Center of Excellence® (BHCOE®)
9/10

average rating "how likely are you to refer a family or friend to Little Leaves?"

– Based on recent anonymous parent survey data
"Little Leaves is appreciated by the communities they serve. They clearly provide the standard for best practice."

– Polly J. Panitz, MD, FAAP (retired)
Little Leaves is a full-time Applied Behavior Analysis (ABA) program for young children with Autism Spectrum Disorder. Designed for children up to age 6 who have been recommended for intensive ABA therapy, Little Leaves effectively provides early autism services and behavior therapy to young children in need and we're excited to offer our ABA therapy to the South Florida region.
Our Approach
Little Leaves offers center-based, high-quality ABA therapy for children ages 1-6. Accredited by the Behavioral Health Center of Excellence (BHCOE), you can be assured your child is receiving the gold standard of treatment. Our extensive program includes:
School Preparedness
1:1 Client-to-Clinician Ratio
Full-Time Program
Individualized Therapy Plan
Preschool-Like Setting
Insurance Support
Little Leaves is currently in network with:
Aetna
Avmed Behavioral Health/Optum
Cigna
United Behavioral Health/Optum
Little Leaves is in-network with the following insurance providers: Every minute counts when it comes to early intervention.
Little Leaves' Family Support Specialists are here to support
YOU

at every step.

From your first communication with us, our dedicated family support specialists will work to provide you peace of mind as you work to determine the next steps for your child. This personal support persists through your child's entire time at Little Leaves and continues as we eventually work to help transition them into a kindergarten program they will thrive in.
Little Leaves is the Best First Step for Your Family
Your child deserves the full-time, center-based care that best treats the challenges that come with an autism spectrum disorder. Our model is designed to provide children with the care they may not be able to receive elsewhere, helping them to grow and succeed. Among our differentiators, the most important may be our 1:1 clinician-to-child ratio, which ensures at all times within a Little Leaves center, children are learning, practicing, and playing with direct adult supervision designed to help them develop and learn.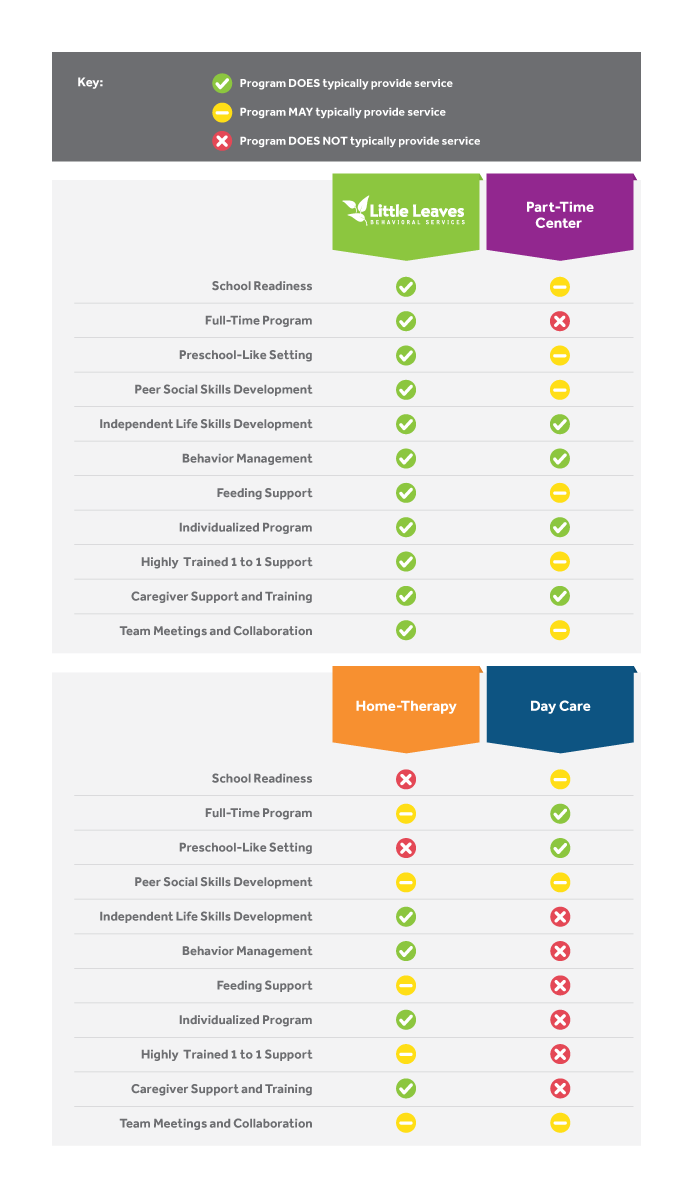 Our Team
Lisa Guerrero, Ph.D., BCBA-D, Regional Director
Regional Director
Our program is supervised by master's- and doctoral-level Board Certified Behavior Analysts (BCBAs) and delivered by expertly trained therapists. Within Little Leaves, we have created a model for our professionals to collaborate on treatment approaches, share best practices, and continuously learn from each other. Your child will be supported not just by his or her immediate team, but also by the decades of experience and expertise of all of our clinicians, many of whom have studied and trained in the finest ABA programs in the world. Little Leaves knows that providing the highest-quality services to your child requires a team effort, and that is how we work. You, your children's families and caregivers–are also integral member of the treatment team, so we make sure you're highly involved every step of the way as well.